Austin Area Minority Business Project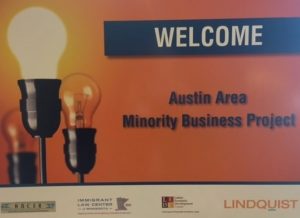 In response to the opportunity presented by the Legal Services Advisory Committee's Bank of America donation funds for community economic redevelopment, this project provides comprehensive economic development legal services to immigrant and minority business owners and employees in the area of Austin, Minnesota. Comprehensive services under this project provide business technical legal support and education, immigration legal services, holistic pro bono legal services, and longitudinal, holistic evaluation and outcome analysis. Partners providing these services are the Latino Economic Development Center, Immigrant Law Center of Minnesota, the Lindquist & Vennum pro bono team, and Hispanic Advocacy and Community Empowerment through Research, whose services occupy distinct project roles.
Immigrants and minorities in the Austin area
In Minnesota overall, 7.3 percent of the population is foreign-born and 10.7 percent speak a language other than English at home, while in Austin, 10.3 percent of the population is foreign-born and 17.3 percent speak a language other than English at home.[1]
Non-white groups make up 41 percent of the Austin school district, and 27 percent of students speak a language other than English at home: 26.5 percent of students are Latino, 5.6 percent are Asian, and 8.6 percent are African. [2]
Forty-seven percent of Austin's kindergartners are non-white, and 57 percent of students overall qualify for reduced-price lunch.[3]
African and Asian immigrants comprise a growing percentage of recent arrivals to Austin.
Lawful permanent residents pay more than unauthorized immigrants in state and local taxes, which is significant in a small town where much of the population is aging or eligible to retire.[4]
Immigrant and minority small business entrepreneurship
Mexican immigrants have the highest rate of business origination out of any group in the U.S.
Immigrant entrepreneurs account for 17 percent of all new businesses annually in the U.S.[6]
Local, dispersed business ownership supports equity and strengthens the middle class, and independent, local businesses generate 2.6 times more local economic activity than chains. [7]
Locally-owned businesses create and retain more jobs per unit of sale than chain stores.[8]
In Willmar, 10 African businesses surveyed created 23 full-time and 16 part-time jobs.[9]
A case study of Pelican Rapids found that the town "appears to be on the front-end of an economic reawakening based on the entrepreneurial tendencies of new immigrant residents."[10]
Austin's number of businesses per capita is far below the state average, and even below that of comparable cities.[11]
Among immigrant business owners, 31 percent said that understanding laws, taxes, and regulations was their first or second concern in establishing or maintaining their business, and 50 percent requested assistance with understanding licensing, regulatory processes, and other legal matters.[12]
Project Partners
Recognizing the opportunity presented by the burgeoning immigrant community in and around Austin to strengthen and diversify the local economy, the project partners will provide supportive wrap-around services to immigrant business owners and their employees. Each organization's role is detailed below.
Latino Economic Development Center (LEDC)
LEDC addresses barriers to Latinos' full participation and success in the community, particularly through economic integration. Under the project, LEDC will conduct the following activities: engage with immigrant business owners and employees of these businesses through direct outreach and canvassing; build relationships with immigrant business owners and employees through sustained community involvement and partnerships with existing organizations; assess the business and immigration legal needs of these communities; provide business members with legal support to address common issues, such as contracts, review of legal structure, and back taxes, and; provide referrals where appropriate.
For more information, please contact Jaime Villalaz: jaime@ledc-mn.org
Immigrant Law Center of Minnesota (ILCM)
ILCM provides immigration legal services, education, and advocacy to low-income immigrants and refugees of all nationalities across the state. Specific activities supporting this project are the following: outreach and education presentations with established community organizations to promote awareness of services and the benefits of immigration; on-going intake appointments, which provide screening for full representation and comprehensive immigration advice as well as brief service; referrals to LEDC and L&V, as deemed appropriate; full case representation, which primarily includes assisting individuals to submit applications for immigration benefits to United States Citizenship and Immigration Services (USCIS) and representing individuals in immigration court.
For more information, please contact Sara Karki: sara.karki@ilcm.org
Hispanic Advocacy and Community Empowerment through Research (HACER)
HACER works in concert with Latino communities to generate and access credible, relevant research in order to inform institutional decisions and public policy. LEDC, ILCM, and L&V will collaborate with HACER to provide third-party evaluation services for the project. HACER will conduct close, longitudinal research on project impact based on a developmental evaluation model to study cross-sector outcomes that will generate research results for dissemination and publication activities. HACER's expertise will inform these measurements, which will look for community improvements in several indicators of economic redevelopment. Research and documentation will allow for program expansion.
For more information, please contact Rodolfo Gutierrez: rodolfo@hacer-mn.org
 Lindquist and Vennum Pro Bono Team (L&V)
The Lindquist & Vennum Pro Bono Team represents the commitment of the national law firm to community service through uncompensated legal services. Activities to support this work include the following: assistance with real estate law, such as commercial leases; leveraging household equity and assistance with small business legal issues, such as incorporation, business mergers and loans, contracts, taxes, wages and benefits issues, and vendor agreements; support for clients in immigration cases.
For more information, please contact: Cindy Anderson: canderson@lindquist.com
[1] American Community Survey, U.S. Census 2010.
[2] http://www.mprnews.org/story/2010/08/09/austin-at-a-crossroads-part3 2010.
[3] http://www.mprnews.org/story/2010/08/09/austin-at-a-crossroads-part3 2010.
[4] American Immigration Council, "New Americans in Minnesota," 2015.
[5] Fennelly, Katherine, Humphrey School of Public Affairs, "Economic and Fiscal Impacts of Deferred Action for Childhood Arrivals (DACA) and for the Parents of Children Born in the United States (DAPA): A Focus on Minnesota," 2015.
[6] https://www.sba.gov/sites/default/files/rs396tot.pdf
[7] Independent BC: Small Businesses and the British Columbia Economy. Civic Economics, 2013.
[8] Key Studies: Why Local Matters. Institute for Local Self-Reliance, 2016.
[9] African Development Center, "Willmar Area African Business Survey," 2012.
[10] Small Towns Big Ideas: Case Studies in Small Town Community Economic Development. UNC School of Government, 2008.
[11] Ibid