previous slide
next slide
Lawyers come to aid of immigrants in crisis, for free
ILCM's Anne Applebaum tells about pro bono lawyers
Ojoye Akane: Connecting families, faith, and homes
After a journey from Ethiopia to Austin, Ojoye Akane is at home in southeastern Minnesota - and works to help others become homeowners.
Eh Mwee: Building bridges in five languages
Eh Mwee, a refugee from Burma, now lives and works in southeastern Minnesota, working to connect refugees with employers.
Meet the Minnesota lawyer standing up to the Trump administration's immigration orders
Attorney Sandra Feist says ILCM director John Keller is "tireless … and always leading the charge."
Annotated White House Immigration Principles & Policies
For specific rebuttal of any of Trump's immigration 'principles,' start with the National Immigratnt Justice Center's annotations.
Legal Advice for Immigrants and 2017 Resources
Haga click para ver el video de consejos legales para la nueva administración. Miré nuestra página de Facebook para proximós eventos.
DREAMers are eligible for MinnesotaCare
Persons who currently have DACA can now receive MinnesotaCare health insurance if they are income-eligible. Watch the webinar to learn more.
Supporting the pursuit of the American Dream
Advocating for immigration reform
About ILCM
**Para ver este sitio en español, haga click "Select Language" en la parte superior de la página.**

Immigrant Law Center of Minnesota (ILCM) is a nonprofit agency that provides immigration legal assistance to low-income immigrants and refugees in Minnesota. ILCM also works to educate Minnesota communities and professionals about immigration matters, and advocates for state and federal policies which respect the universal human rights of immigrants.

In 2016, ILCM celebrates 20 years of service and growth with Minnesota's immigrant and refugee communities. Over the last 20 years, ILCM has assisted more than 23,000 immigrants to secure legal status in the United States, and to overcome the challenges of obtaining work authorization and citizenship. Our services help break down barriers and make meaningful improvements to immigrant families' lives, allowing them a safe and sustainable future in Minnesota.
Intake Hours
Please call our client line at
1-800-223-1368 during intake hours to schedule an appointment to speak to a legal staff member.

GENERAL INTAKE:
Mondays, Tuesdays, and Wednesdays at 12-1:30 p.m.
In December:
Friday, December 1 from 12-1:30 p.m.
Thursday, December 7 and Thursday, December 21 from 6-7:30 p.m.

DETENTION INTAKE:
If you are detained by Immigration and Customs Enforcement (ICE) or calling on behalf of someone in the custody of ICE, please call 651-641-1011 during the following hours to receive assistance:
Tuesdays and Thursdays: 2 pm – 4 pm

PRIORITY INTAKE
Monday, Tuesday, Wednesday: 9-11 am and 2-4 pm
Thursdays: 1 - 4 p.m.
(For listing of priority cases, go to https://www.ilcm.org/immigration-help/)

Hours are subject to change. Please check our website for updates.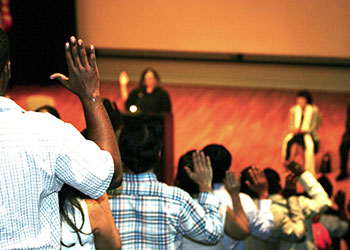 ILCM offers quality immigration legal assistance to immigrants and refugees of all nationalities.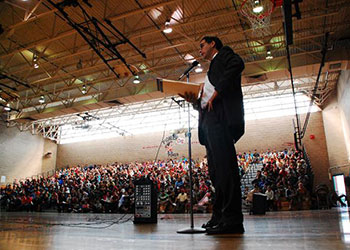 Know Your Rights - ILCM has responsive, multi-lingual resources to help immigrant and refugee communities be prepared and stay safe.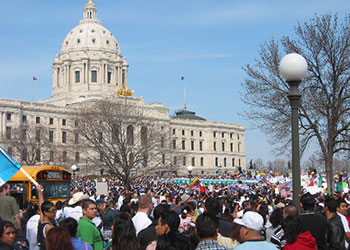 Become a part of our Action Alerts network, view career and volunteer opportunities, or make a donation.
Support ILCM
Your donation supports ILCM in creating a more welcoming Minnesota for all.
Donate to ILCM
Subscribe to Our Newsletter
Sign up to receive communications from ILCM that will keep you updated on our work.
Subscribe Now