2017 Fall Event: Immigrant Justice in Today's Reality


Minnesota History Center – October 12, 2017
5:30 Heavy Hors d'ouevres / 7 Guest speaker and panel / 8:30 Coffee and dessert reception
FEATURING:
Joseph J. Levin, Jr., Co-Founder, Southern Poverty Law Center
John Keller, Executive Director, Immigrant Law Center of Minnesota
Senator Patricia Torres Ray
Representative Ilhan Omar
Seating limited to 300 guests.
Sponsorships available.
Individual tickets: $125.00
Thank you Fall 2017 Event sponsors:
Champion Level:
Matt Entenza and Jeannie Fox Entenza
Leader Level:

Ally Level:
   
Advocate Level:
Robins Kaplan LLP
Fredrikson & Byron P.A.
Lindquist & Vennum
US Bank

Friend Level:
Steven Thal, PA
Bremer Bank
SEIU Minnesota State Council
Hiawatha Academies
University of Saint Thomas School of Law
The Sherwin Williams Co.
Bill Mahlum and Donna Allan
* * *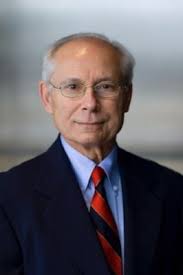 Joseph, J. Levin, Jr., Co-Founder, Southern Poverty Law Center
A native of Montgomery, Joseph J. Levin, Jr. is co-founder of the Southern Poverty Law Center. From 1971 until 2004, he served the Center in various capacities, including Legal Director, Chair of the Board, President & CEO, and General Counsel, retiring in 2016. He continues to serve the Center as an emeritus member of the board.
In 1976, Mr. Levin left the Center to join the Carter Presidential Transition Team and supervise the Department of Justice transition team. He had special responsibility for analysis of Department of Justice national security oversight of the CIA, FBI, NSA, and Military Intelligence functions. Mr. Levin went on to serve as Special Assistant to the Attorney General and Chief Counsel of the National Highway Traffic Safety Administration.  In 1977, in that capacity, he represented and advised NHTSA in dealings with the Department of Transportation, Congress, the courts, federal and state agencies, and the private sector. He had principal responsibility for the massive recalls of defective Firestone "500" steel-belted radial tires and for the Ford Pinto due to defective fuel tanks.
With extensive litigation experience, Mr. Levin has been involved in over 50 major civil rights cases. His better-known cases include the landmark sex discrimination case of Frontiero v. Richardson, 411 U.S. 677 (1973), and the private segregated school case of Gilmore v. City of Montgomery, 417 U.S. 556 (1974). From 1979 until 1996, Mr. Levin engaged in the private practice of law in Washington D.C. A 1966 graduate of the University of Alabama Law School, Mr. Levin served in the U.S. Army, Military Intelligence branch, from 1967 to 1969. He is admitted to practice in Alabama, North Carolina and the District of Columbia.
John Keller, Executive Director, Immigrant Law Center of Minnesota
John Keller is the Executive Director of the Immigrant Law Center of Minnesota. Prior to that, he was a staff attorney at ILCM from 1998 to 2004. John graduated cum laude from Hamline School of Law in 1996 and received his B.A. in Latin American Studies and Spanish from the University of Minnesota in 1992. After law school, John served as a Judicial Law Clerk at the Minnesota Court of Appeals (1997-1998). He has also served as an Adjunct Professor at University of Minnesota Immigration Clinic from 2004-06, and as Vice Chair of MN State Bar Immigration Chapter. John was named Attorney of the Year 2007 by Minnesota Lawyer, was awarded the Ohtli Award from the Mexican Consulate in 2014, and received the Minnesota Council of Nonprofits 2007 Advocacy Award on behalf of ILCM for work he led in response to the immigration raids in Worthington in 2006.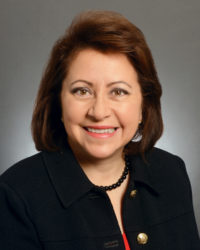 Senator Patricia Torres Ray
Patricia Torres Ray (born March 1964, in Pasto, Colombia) represents SD 63, which includes south Minneapolis in Hennepin County and Richfield. Torres Ray succeeded the retiring Wes Skoglund in 2007. She is the first His- panic American to be elected to the Minnesota Senate and the first minority woman to run as Lieutenant Governor in Minnesota. She currently serves as the Chair for the Education Policy Committee and the Senate's Education Finance, Higher Education and Workforce Development Division and State and Local Government Committees. She married in 1987, and immigrated to Minnesota with her husband, learned English, and became a U.S. citizen. She studied at the University of Minnesota, earning a B.A. in Urban Studies and an M.P.A. from the Humphrey Institute. She and Jack have two sons, Tomas and Carlos.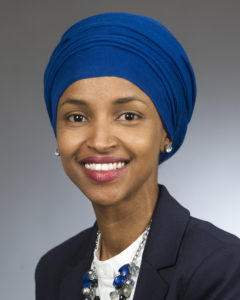 Representative Ilhan Omar
Ilhan Omar is an experienced Twin Cities policy analyst, organizer, public speaker and advocate. She was recently elected as the Minnesota House Representatives for District 60B, making her the highest-elected Somali-American public official in the United States. Ilhan is the Assistant Minority Leader, with assignments to three house committees; Civic Law & Data Practices Policy, Higher Education & Career Readiness Policy and Finance, and State Government Finance. In addition to serving in the legislature,
Ilhan is a mother of three and the Director of Policy Initiatives at Women Organizing Women, where she empowers East African women to take civic leadership roles in their community. Born in Somalia, Ilhan and her family fled the country's civil war when she was eight. The family spent four years in a refugee camp in Kenya before coming to the United States in 1990s. Omar studied at North Dakota State University.